Det. Harrell speaks to local Lions club
April 05, 2018
Coordinator Det. Everett Harrell spoke to the Huntsville Lions Club on April 5, 2018. Det. Harrell explained the function of Crime Stoppers and how it works for the community. Lion Liesa Hackett is pictured with Det. Harrell.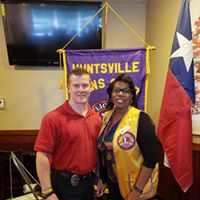 ---
2016 CRIME STOPPERS FOOD DRIVE
November 19, 2016
The Crime Stoppers local program held a food drive at Brookshire Brothers this past Saturday from 9 am to 2 pm. The support from the community resulted in the collection of needed food for those in our area who will receive the food from the Good Shepherd Mission. The mission brought their truck to Brookshire Brothers and it was loaded with the donated food products. The attached photo shows members of the Crime Stoppers program who spent their time in this event. Crime Stoppers also wants to thank Brookshire Brothers for their support of this program.