Burglary
April 09, 2018
STATUS
: OPEN
The Huntsville Police Department is asking help from the public in identifying a male suspect who has been breaking into apartments and watching the tenants sleep. The suspect is described as having a medium complexion, 5 foot 7 inches to 5 foot 10 inches tall with a tribal tattoo on his left arm from the elbow to his shoulder to chest area. The first break in occurred on April 9th at an apartment at an apartment complex in the 1600 block of Sycamore Avenue. The victim woke up a night with the suspect standing on a chair near the bed. The second burglary was on May 6th at a residence in the 500 block of Bowers Boulevard. The victim woke up finding the suspect in boxer shorts standing by the bed. The third burglary happened on May 11th when the victims were returning to their apartment in the 2100 block of Sycamore Avenue. The suspect walked out of their bedroom and lout the door. Police found no signs of forced entry at any of the residences.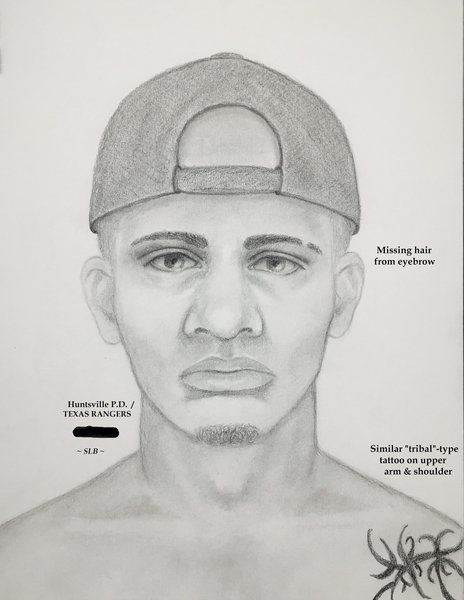 ---
Burglaries (a)
December 16, 2016
On 12/16/16 at 0021 hours two black males forced entry into Timewise Chevron by throwing a rock through the glass door. No property was taken during this incident. On 12/16/16 at 0106 hours the same suspects forced entry in to Jif-E-Mart. At this location the two black males took cash drawers and tobacco products. The two black males were then observed getting into a dark colored Dodge Charger and fleeing. On 12/16/16 at 0252 hours the same two black males forced entry into Papa Keith's Texaco and again were observed stealing several packages of cigars. Crime Stoppers is assisting the Huntsville Police Department to identify the suspects seen in the attached photos, the vehicle, or any information leading to the solving of these cases.

---
Theft of Motor Vehicle
December 15, 2016
The Huntsville Police Department is seeking help in trying to identify the suspect(s) and locate a stolen truck from the 2500 block of Crosstimbers Drive in the early morning hours of 12-15-16. The truck is a 2003 Dodge white 2500 pickup with the license number of GSG1989.